Hands-on rhino and elephant conservation at a private game park in Zimbabwe. Work alongside conservationists to help secure their future
Project Background
Imire was founded in 1952 by Norman and Gilly Travers. Originally cattle ranchers and farmers, the Travers also had a great passion for wildlife and conservation, which led to the establishment of Imire as a wildlife sanctuary.

In 1987, 250 black rhino were removed from the Zambezi Valley due to a distressing rise in illegal rhino poaching. These rhino were relocated to private conservancies for safety. Imire was granted custodianship of seven orphaned calves and became an intensive black rhino breeding station. To date Imire has successfully released 11 rhino into the wild. The Black Rhino Breeding Programme is world-renowned, helping to protect Zimbabwe's heritage with the successful re-introduction of this incredible endangered animal back into the wild.
What we do
Imire Wildlife Conservation is internationally renowned for its black rhino breeding and release programme. The 10,000 acre reserve was given seven orphaned baby black rhino to raise in 1985 and since then 15 rhinos have been born at Imire and 11 released back into National Parks across Zimbabwe and Botswana. Now home to five black and two white rhino, Imire is also home to five elephants, four of whom were orphans who had outgrown their rescue sanctuaries. These elephants could never be released and have found a forever home in as natural an environment as possible. Imire is also home to a buffalo, lion, a huge range of plains game such as giraffe, zebra, waterbuck, kudu and the rare sable antelope.

Our Imir wildlife conservation volunteers get involved with every aspect of game park life, with a focus on rhino and elephants. Walk with these amazing animals and study their behaviour; learn from experienced guides and support the dedicated Anti-Poaching Unit. Volunteers also work on game park building and maintenance projects and carry out game counts, herd monitoring, maintenance, reforestation projects and work on the farm.
Location
Situated just 1 ½ hours drive from Harare, Imire Wildlife Conservation is a world away from the hustle and bustle of the city. Sable Lodge at Imire is an ideal place to enjoy unsurpassed game viewing, great food, friendly staff and a relaxed atmosphere, whilst also contributing to an important conservation cause.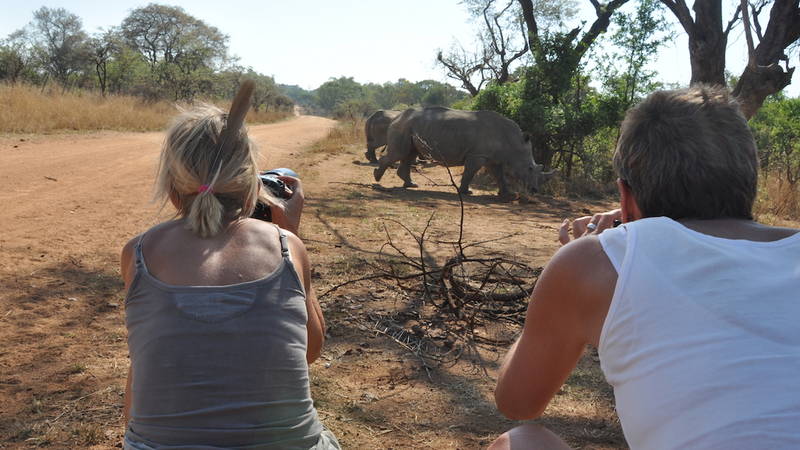 Our vision at the Imire Wildlife Conservation is the long term wildlife management, focusing on the breeding and release of the black rhino, and sustainable living. We believe that rural communities and wildlife programmes can successfully live together side by side only by working together. All our volunteers spend time in the local community to understand the pressures they face and how this in turn affects our conservation efforts.
Pursued Sustainable Development Goals
Imire Wildlife Conservation offers volunteer opportunities in
The main focus of Imire Wildlife Conservation is on
Foundation Year
1952
Contact Person
Jane Palmer