International Napoli Network
Local NGOs provide services to an increasing refugee and migrant community such as shelter, food, health care and activities tailored to their long-term integration.
International Napoli Network (INN) is a worker-run service cooperative founded in March 2015. The primary objective of INN is to integrate the local network of NGOs, associations and social enterprises with an expanding international network of volunteers.
Our vision is to promote international volunteerism, local associations and social enterprises by strategically matching international volunteer with local talents and creative thinking. Our goal is to function as an incubator of innovative ideas and projects that can have a positive impact on Naples and the surrounding region. To that purpose, we are constructing a community of social innovators - an international network that combines the energy and passion of volunteers from all over the world with the knowledge and skills of local NGOs, associations and social enterprises.
Organisations that work specifically with migrants and refugees in Naples, generally have limited resources and rely heavily on local and international volunteer support to run their various initiatives. These organisations require volunteer support in a wide variety of activities such as administration, organising and running skills and community workshops (e.g. English language support, computer, sport, music, CV writing), supporting migrants with their daily activities and needs, cleaning, food distribution, event organisation, research, communication and outreach. Daily volunteer tasks vary as required by the organisation in which volunteers are placed and according to their current initiatives. Volunteers who have relevant experience, may have the opportunity to become involved in counselling and legal support to migrants seeking humanitarian asylum. 
Since the beginning of the millennium the Sicilian coast has become the destination of makeshift boats filled with people fleeing conflict and persecution. They cross the seas in inhumane conditions, often in the hands of traffickers, transforming the route across the Mediterranean into a silent massacre. In 2012, following the revolts of the "Arab Sping", Italy's shores have received 63.000 migrants, mostly from Tunisia and Libya. However, the most significant rise was in 2014, with the arrival of 170.000 people. 
This growth was primarily due to the rise in conflicts in Africa and the Middle East, mainly from the war in Syria. By the end of 2014, the number of total refugees in Italy was 93.715, with another 45.749 asylum requests pending. In that year alone, the number of asylum applications was 63.700. The majority of these asylum seekers came from Mali, followed by Nigeria, Gambia and Pakistan, although the largest number of arrivals that came to Italy were Syrian nationals or Eritrean. In fact, the number of arrivals by sea in 2014 was greater than the number of asylums claims. This is because many preferred to continue their journey to apply for asylum in another country in search for greater prospects of integration. [Source: UNHCR] 
To date, the number of foreigners who have arrived in Italy between 1st January 2016 and 24th July 2016 were 88.351 and the national system of reception is currently in charge of 138.000 migrants, a significant increase compared to the 103.792 recorded in 2015. One of the biggest problems is the number of unaccompanied minors, which in 2015 was 12.360. By mid 2016 this figure had already been reached. In the lead arrivals are from Nigeria (17%), followed by Eritrea (13%), Gambia, Ivory Coast and Sudan (7% overall). [Source: Italian Home Office] 
There are different forms of protection that can be granted. Two of these, refugee status and subsidiary protection status, are included under international protection and are provided respectively by international law and European Union law. Those entitled to the status can expect to receive a residence permit for five years, which guarantees them a number of rights relating to employment, education, and health and social care. All foreigners who intend to request protection by the Italian State, even if they have entered Italy through underground means and do not possess any documents, can submit an application and also access the procedure to gain international protection status. 
The Territorial Commission for the recognition of international protection is responsible for deciding the outcome of applicants. Each applicant has a right to an individual interview with the Territorial Commission. The hearing allows the applicant to tell their own personal story and the reasons why they can no longer return to their countries of origin. If the application is refused, they may appeal within thirty days of the decision being communicated. 
The system of reception of immigrants in Italy is structured in stages and provides different facilities depending on the functions and categories of the persons accommodated. Every reception centre has its own organisational model and different lengths of residence. Asylum seekers have the right to reside on Italian territory under reception conditions for the entire duration of their application procedure. In the second phase of reception, those who have already submitted their application for asylum are hosted in the facilities that make up the System of Protection for Asylum Seekers and Refugees (SPRAR). These centres offer meals and accommodation, assistance, guidance and information to accompany and promote their independent path of socio-economic integration. These measures of reception are insured for the asylum seeker for the entire duration of the evaluation of their application, even in cases where they appeal a negative verdict. In the case of a positive outcome, the applicant may stay in these centres for a further six months aimed at facilitating their process of social integration.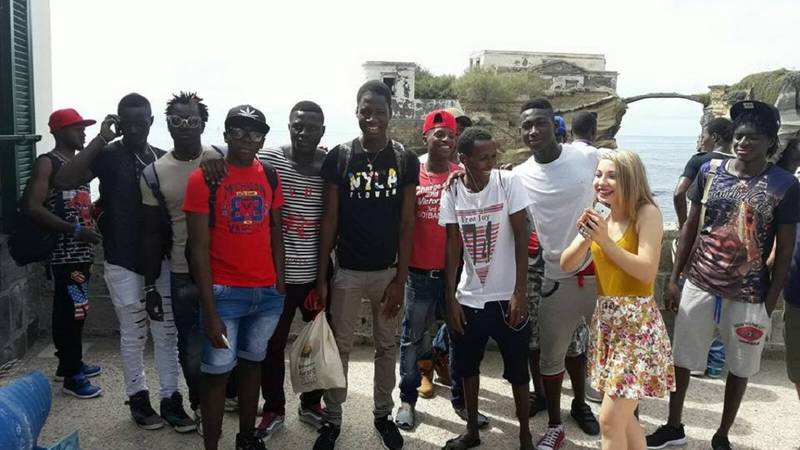 In the past few years a high number of refugees have arrived on the Italian shores escaping war and persecution. Many others lost their lives in their attempt to reach Europe with the hope of finding safety and protection. Few can fully understand the reasons that drive these people to leave their home countries, or the difficulties they face and violence they suffer along their journey. The lack of knowledge and understanding leads to distorted views of this phenomenon which over time risks fuelling discriminatory attitudes toward asylum seekers and refugees. The organisations that are responsible for the integration of refugees and migrants in the territory also commit to raising awareness among local populations, in order to manage and prevent conflict and to create the best possible conditions to facilitate the integration process. 
The region of Campania, which includes the area of Naples, has a large number of immigration reception centres and is the third city in Italy for the number of asylum seekers and immigrants that it accommodates. 
The organisations that operate on the territory host hundreds of refugees. Their primary job is to provide legal and psychological support to the asylum seekers during their application process and support them in obtaining documents, permits and access to public services. In particular, the organisations have to deal with the frequent long delays in the application process by the Territorial Commissions, delays that can last up to two years. Addressing this "limbo state" is the hardest and most complicated job for these organisations. Often they have to deal with financial difficulties (due to the inherent delays of payments by the P.A.) and the pressure to accommodate more guests due to the intensification of the migratory flow. As a results they find themselves with a significant amount of work whilst having to ensure services without having the necessary resources and adequate staff. The most effective impact would be in improving the services, helping the organisations build networks, researching best practice and planning new interventions. These are usually the most penalised activities in day-to-day management and in times of emergency.
Pursued Sustainable Development Goals
International Napoli Network offers volunteer opportunities in
The main focus of International Napoli Network is on
Foundation Year
2015
Contact Person
Sara Cimmino