Live at the beach and work in the bush. Be a part of something bigger and help make a difference in protecting WILD African megafauna, like elephants and white rhinos.
Nkonzo Bush Academy rallies around the ideal that wildlife has the same right to exist peacefully as humans do. We strive to promote co-existence and respect of wildlife and the environment. Our focus is on ethical and non-invasive techniques and we try to instill this interest, respect, and passion to each person who joins our cause. 
At Nkonzo Bush Academy we work to protect all wildlife, including the iconic white rhino and elephant. One of our many goals is to formulate a better understanding of these beautiful animals so that we can better protect and conserve them and their environment for future generations to come. 
Located in the safest town in South Africa, Mossel Bay is in the heart of the Garden Route in the unique fynbos biome.
Experience wildlife as it was intended and know that you are making a difference!
About Us

Nkonzo Bush Academy is a popular and highly regarded destination for research, conservation and ecotourism. Founded on the dream of being different, the name Nkonzo comes from Lingala, a language in central Africa, meaning possibility or new beginnings.
At Nkonzo we believe in the bigger picture; creating experiences that not only focus on the ethical wellbeing of all animals, both human and not, but the future of the environment by making a positive impact on the conservation industry and the lives of African wildlife.
​We're working for a better future by showing the world what wildlife is supposed to look like and how we can coexist together.
Our ethos can be detailed as many things but it all integrates into a singular idea, that of respect. Respect is the key on which Nkonzo's founding is idealized. The pride of Nkonzo is the respect of the environment, which encompasses all things within it, and that of the future, including man's coexistence and place in it.
ResponsibilitiesVolunteers will take part in various activities, such as: monitoring of various species within the only free roaming big five reserve in the fynbos biome, assist in animal releases and darts when necessary, reserve maintenance (alien plant removal, road maintenance, etc.)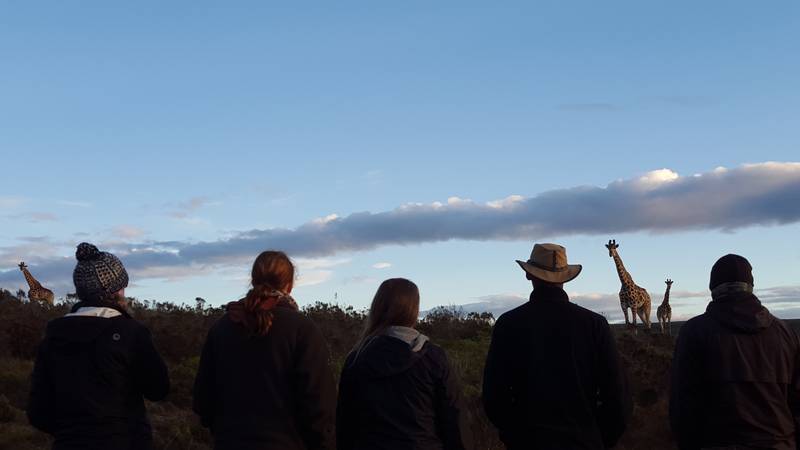 The goal of Nkonzo Bush Academy is to provide a unique, reliable, and ethical volunteer option for overseas volunteers who wish to make a difference in South Africa. Our mission is to make a difference in the sustainability and future of the ecosystem and the wildlife that inhabit it by training and committing ourselves to ethical wildlife conservation projects that improve the future of individual animals, species, ecosystems, volunteers, and local communities.

Pursued Sustainable Development Goals
Nkonzo Bush Academy offers volunteer opportunities in
The main focus of Nkonzo Bush Academy is on
Foundation Year
2013
Contact Person
Mandi Hall