Project Details
Our farm Outeniqua Moon is a breeding and conservation farm for the rare Percheron horses and aims to preserve this race of heavy draft horses.
Our purpose is to save the heavy draft Percherons and restore that magical partnership between horses and humans and to show a way to rediscover the earth, the horse and ourselves; to recreate a seamless harmonious balance between ourselves and nature and the way to
real green, sustainable farming.
Most importantly we want to show the world the worth of the heavy draft horses and at last get them the protection and recognition they deserve.
As well as breeding the Percherons, we have created a sanctuary for other abused and homeless horses; to date we have rescued six Percherons and seven other horses of different breeds. We do re-home horses to good lifetime homes.
Other goals are to be farming organic vegetables as well as alfalfa and teff for the horses. All our farming operations will be done using the horses. Our main supply of fertilizer is horse manure and we do have a worm farm for composting. The vegetables will be to feed the staff and guests at Outeniqua Moon and supply a soup kitchen at our local school to help provide for the children.
Future plans are to keep a small herd of Nguni cattle, which are indigenous to South Africa.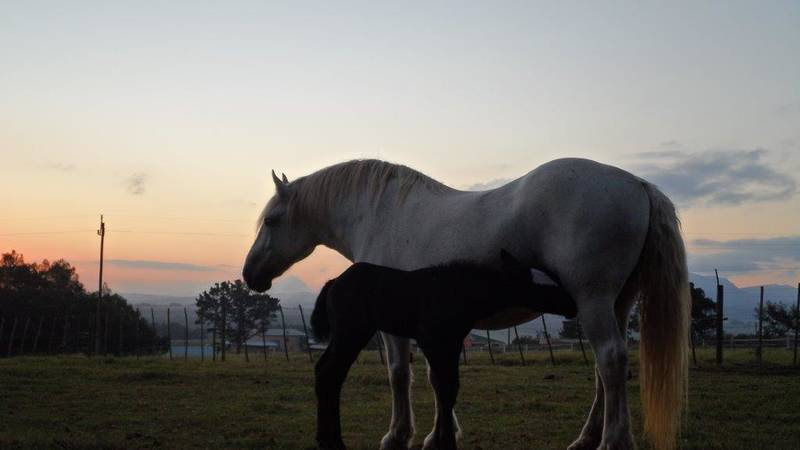 The main focus of the project is on
Contact Person
Spoken Languages
Social Impact
On top of working towards preserving the amazing Percheron horses, the program will also involve teaching the local, less privileged children, about working with horses and keeping the planet green. We are certain that our young volunteers will feel spiritually enriched by the experience of working with the great horses and they will grow in confidence and in their souls.
Pursued Sustainable Development Goals