Volunteer Teacher Thailand is a non profit organisation located in Thailand. Its aim is to give a better future to Thai children.
The Tsunami Volunteer Centre was set up in Khao Lak immediately following the disaster of Boxing Day 2004. Teams went to the community leaders in the affected areas to ask what they needed to aid their sustainable recovery. They asked for English speakers for their schools. The English Outreach Project was launched… When the construction projects were finished TVC asked Ken to continue the successful English Teaching project. It was rebadged as Volunteer Teacher  Thailand. Volunteer Teacher Thailand is now a Thai Registered Charitable Foundation. Its board members include the Mayor of the district, the Chief Advisor for English Education for the Province and a school principal.
OUR MISSION
Better than Better. Happier than happier.
Our mission is to place English speakers into schools that cannot afford to hire Native English teachers:
To respond to schools that request volunteers

To support volunteers with the curriculum and ready made lesson packs to enable them to teach with confidence

To provide professionally designed worksheets to help the children's learning.

To continue to develop the lessons so the children and the volunteers have the best materials available.

The role of Volunteer Teacher Thailand is to teach spoken English to poor Thai students in the age range of 5 to 16. Their own teachers are good at teaching written English but only rich schools can afford to hire native English speakers to teach the kids spoken English. We work closely with the Phang-Nga education authority and several dozen schools stretching more than 100km along the Andaman coast.
Teach spoken English to under privileged Thai students
WHAT WE DO
Our work – your teaching – is designed by the VTT Director, Ken Hyde, who is a British career teacher who does this as a volunteer. It supports the Thai curriculum and lessons are scheduled into each school's working week. In addition, we do English Camps sometimes. This is where a large team of volunteers will spend three days at a location for intensive lessons. All the lessons are fun and games. These methods give everyone enjoyment and the tested results show that they succeed in teaching spoken English.
We choose schools in daily travelling distance for school placements – volunteers come back to Khao Lak in the afternoon. English camps can be held anywhere that works for the schools involved: in temple salas, school halls, on islands, on the beach. But we make sure that the amenities are suitable for volunteers to teach in. If you choose to join an English camp, it may be away from our base in Khao Lak.
SUPPORTS THE THAI CURRICULUM
We have the curriculum for each school year and have made lessons to match the schools' programmes. This means your input is relevant to the children's education and brings added value to the work of the schools. We keep records of what has been taught which in turn show what should be taught next. It provides a continuous programme so your teaching matches what  has already been taught, and what will be taught in the future. You will be another brick in the wall – of achievement.
PRACTICAL LESSONS
Our lessons contain A4 laminated pictures and words to match – all with Velcro tabs. This provides a visual aspect to go with the hearing and saying. Having the children run out to the board to slap the pictures next to the words provides movement. This method involves four of the senses and is a powerful learning tool, which  has been recognised as "Accelerated Learning."
LEARN & ENJOY
Traditional methods are formal and involve the children sitting, listening, repeating and writing. The volunteers' active lessons engage the children.  A teacher reported "The children enjoy the volunteers' lessons. Now, they are hungry for English!"
SPEAK AND PRONUNCIATION
Your skill in speaking English is valuable in the classroom. Instead of the traditional method of sitting at the teacher's desk, you can move around the classroom speaking and listening to every child. A smile and a nod at a child's answer is an invaluable confidence booster to that child.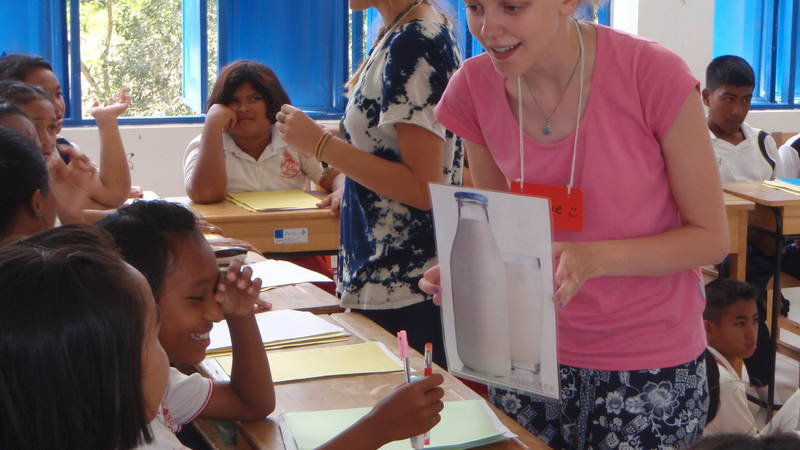 OUR VISION
Don't just do good. Do your best.
A future where we place volunteers in every school that requests them, all  year round.

A future where all of our schools meet the National Benchmark for English.

A future where every one of our schools report improved positions in the league table of English exam results.
GREEN EXCELLENCE AWARD FOR THE BEST VOLUNTEER ORGANISATION
Don't just do good. Do your best.
Winner of the Tourism Authority of Thailand's Green Excellence Award for the best Volunteer Organisation, presented by HRH Princess Ubolratana. Non profit project which came out of the magnificent effort of the Tsunami Volunteer Centre. We offer free English teaching where it is requested, in schools and the communities of the Andaman Coast.
REGISTERED THAI CHARITABLE FOUNDATION
An independent non profit.
Volunteer Teacher is a Registered Thai Charitable Foundation, Number: 62010200_8205_255900000001_1_0
We are an independent non profit with no affiliations to religious or political bodies.
Pursued Sustainable Development Goals
Volunteer Teacher Thailand offers volunteer opportunities in
The main focus of Volunteer Teacher Thailand is on
NPO Status
Yes, registered non-profit organisation
Foundation Year
2004
Contact Person
Ken Hyde